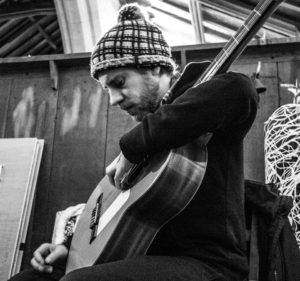 This month's special guest set comes from a brand new duo of familiar faces; Simon Prince and David Birchall.
You'll know Simon from his many appearances with Wolfscarers, and other groups. He's a fiery tenor sax player who's equally as fiery on flutes. Listen for yourself if you don't believe me. https://wolfscarers.bandcamp.com/
David Birchall is another frequent visitor of the Noise Upstairs. You'll have last heard him with Richard Scott's Lightening Ensemble, but he's also been spotted with Rogier Smal, THF Drenching, Odie Ji Ghast, and many others. He's dead good like. Listen to him here: https://davidmagnusbirchall.wordpress.com/
Who

David Birchall / Simon Prince - 11 May 2017

When

Thursday, May 11, 2017

Where

448 Wilmslow Road
Manchester, England M20 3BW
About The Noise Upstairs
The Noise Upstairs is an improv collective which runs a free-improv night in Manchester. The basic premise is that anyone can turn up and join in by putting their name in the hat. Names are pulled out, ensembles formed, and hearts broken.
Upcoming Featured Artist