John Pope on a mini-tour from his native Newcastle, presents a solo improvisation for double bass and tape recorders. John is a fine composer and improviser and has run projects such as the Improvisers Orchestra of the North (ION) based at the Sage, which displayed an incredible performance at the Gateshead Jazz Festival in 2009
http://johnpopebass.wordpress.com/
All welcome to take part in the jam session as normal, preceding and following his set. Bring instruments, laptops, voices, toys…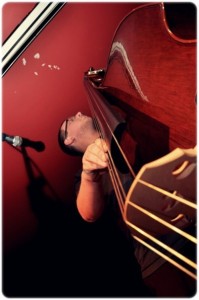 Who

John Pope - 9 August 2012

When

Thursday, August 9, 2012

Where

448 Wilmslow Road
Manchester, England M20 3BW

Other Info

John Pope on a mini-tour from his native Newcastle, presents a solo improvisation for double bass and tape recorders. John is a fine composer and improviser and has run projects such as the Improvisers Orchestra of the North (ION) based at the Sage, which displayed an incredible performance at the Gateshead Jazz Festival in 2009

All welcome to take part in the jam session as normal, preceding and following his set. Bring instruments, laptops, voices, toys...
About The Noise Upstairs
The Noise Upstairs is an improv collective which runs a free-improv night in Manchester. The basic premise is that anyone can turn up and join in by putting their name in the hat. Names are pulled out, ensembles formed, and hearts broken.
Upcoming Featured Artist
No upcoming performances.