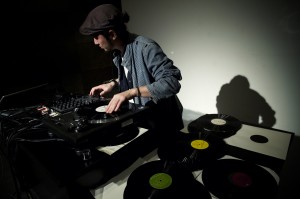 (photo by Tanya Traboulsi)
Takuro Mizuta Lippit (aka dj sniff) is a musician, curator and producer in the field of experimental electronic arts and improvised music.
His musical work builds upon a distinct practice that combines DJing, instrument design and free improvisation. He is interested in how a mediated musical memory, from archival collections of vinyl records to digitally captured sound events during a performance, can be used to create a new sonic reality that emerges through the fleeting notion of the "now." This pursuit has led him to create customized instruments that allow him to intuitively access and re-play these different temporalities ingrained in our listening consciousness. His live performances range from carefully constructed solo sets to improvisational groups with virtuosic instrumentalists.
His curatorial work aims to present a global overview on new experimental approaches to music, sound and performance. He is often involved in facilitating the technical or conceptual development of the works that he features, and his network is built from being an active artist in the field. As Artistic Director of STEIM in Amsterdam, he has curated and produced over 100 projects including large scale international festivals and award winning art works.
Born in 1978, Mizuta Lippit spent most of his formative years in Tokyo. He studied Art History and Philosophy at Keio University, where his graduating thesis was on concepts of the frame and the sublime, based on a critical reading of Kant, Derrida and Lyotard. During this time, he was also active as a DJ in the underground electronic music scene and formed a collective called smashTV productions which organized club events and salon style gatherings. After professionally working as a translator, researcher on alternative art spaces, DJ and construction worker, he moved to New York to pursue graduate studies at NYU's Interactive Telecommunications Program where he received his Master's degree in Physical Computing and Interaction Design.
Since 2005 he has been involved with STEIM's (Studio for Electro-Instrumental Music, Amsterdam) R&D lab. From 2007 on, he is STEIM's Artistic Director, guiding the institution's creative output and representing it's activities through performing, curating and lecturing around the world.
He has performed throughout Europe, Asia and The United States at various venues and international festivals including Club Transmediale Berlin, Warsaw Autumn, Japan Society NYC, The Roy and Edna Disney/CalArts Theater (REDCAT) Los Angeles, March Meeting Sharjah, and FLOW Festival Helsinki. He has released 12 DJ mixes and 2 solo albums from labels in Lebanon and the UK and his work has been reviewed in the New York Times, All About Jazz, The WIRE and createdigitalmusic.com. He has received grants from Tisch School of the Arts, Japan Agency for Cultural Affairs, Performing Arts Fund NL (FPK), Amsterdam Arts Fund (AFK), and Dutch Consulates in various countries.
He has musical projects with eRikM, Tatsuhisa Yamamoto, Astro Twin (Ami Yoshida & Utah Kawasaki), Adachi Tomomi, Keir Neuringer, Raed Yassin, Yutaka Makino, Paul Hubwebber, Future Fossils (Raoul van der Weide & Sanne van Hek), Daysuke Takaoka, Mark Sanders and C. Spencer Yeh. In the past he has had the honor to play with some of his heroes such as Evan Parker, Otomo Yoshihide, Akira Sakata, David Toop, Martin Tetreault and Michel Waisvisz.
/////////////////////////////////////////////////////////////
Also performing that evening is a trio with Rodrigo Constanzo, Pierre Alexandre Tremblay and Sam Andreae and another act to be confirmed.
Who

DJ Sniff - 22 June 2012

When

Friday, June 22, 2012

Where

Rusholme Grove
Wilmslow Rd
Manchester, England M14 5AG
1 Comment to "DJ Sniff – 22 June 2012"
About The Noise Upstairs
The Noise Upstairs is an improv collective which runs a free-improv night in Manchester. The basic premise is that anyone can turn up and join in by putting their name in the hat. Names are pulled out, ensembles formed, and hearts broken.
Upcoming Featured Artist
No upcoming performances.