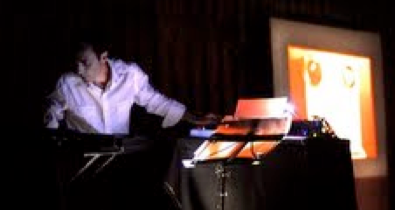 About Daniele Ledda
Composer.
He studied wind instruments, piano, composition, electronic music, information technology.
He worked as a teacher, and in the field of composition, improvisation, sound recording, electronic music, music for dance, for video and theater.
He has worked with: Alessandro Olla, Roberto Pellegrini, David Barittoni, Fernando Grillo, Marcus Stockhausen, Fabrizio Casti, Marcello Pusceddu, Franco Oppo, Dario Piludu, Massimo Tore, Llorenç Barber, Marco Meloni, Marcello Mameli, David Moss, Ettore Fioravanti, Maurizio Saiu, Liz Saiu, Senio Dattena, Carlo Quartucci, Henning Frimann, Massimo Drago, David Shea, Otomo Yoshihide, Marco Cappelli, Marc Ribot, Elliott Sharp, Eric Bogosian, Jim Pugliese.
He created the label Digitalispurpurea.
Today explores the experience of philosophy in the practice of contemporary arts. This means the creation of works that coordinate writing, speech, vision, listening.
Read more: http://www.myspace.com/danieleledda#ixzz12TR8KzAi
1 Comment to "Daniele Ledda – 9 December 2010"
About The Noise Upstairs
The Noise Upstairs is an improv collective which runs a free-improv night in Manchester. The basic premise is that anyone can turn up and join in by putting their name in the hat. Names are pulled out, ensembles formed, and hearts broken.
Upcoming Featured Artist
No upcoming performances.