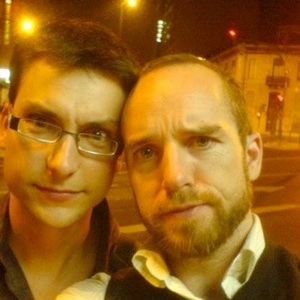 Apropos are Iain Harrison (saxophones) and Scott Mc Laughlin
(computer), playing music that lives  somewhere between the
composed/notated and the freely improvised. Scott Mc Laughlin is a
composer (studies with PA Tremblay, Bryn Harrison, Christopher Fox and
James Saunders) whose work focuses on the ambiguity of minimal
surfaces involving inharmonic and repetitive materials. Iain Harrison
has worked with composers such as Phill Niblock and Larry Austin,
performers Frank Gratkowski, Fransziska Schroeder, Andy Scott and Dave
O'Higgins. He tutors in the Universities of Huddersfield and Hull, as
well as being the principal saxophone with the Hull Sinfonietta.
http://www.lutins.co.uk/
http://www.myspace.com/iainsax
About The Noise Upstairs
The Noise Upstairs is an improv collective which runs a free-improv night in Manchester. The basic premise is that anyone can turn up and join in by putting their name in the hat. Names are pulled out, ensembles formed, and hearts broken.
Upcoming Featured Artist
No upcoming performances.