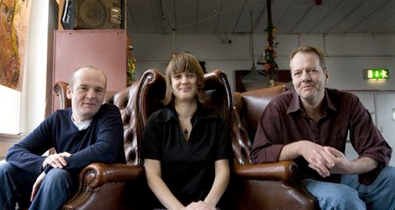 German born saxophonist Ingrid Laubrock is teaming up once again with acclaimed UK pianist Liam Noble and one of New York's finest drummers, Tom Rainey for an exciting brand of new improvised music. Sleepthief play with a wide spectrum of sound, rhythm, space and colour whilst maintaining a strong feeling for form.
Those of you who were lucky enough to see them last year will definitely not want to miss out this year, and if you weren't there, this is your second chance!
"(…) Laubrock's open soundworld made a fascinating contrast. Now, characterised by remarkable tonal variation and great empathy with Noble's gritty piano textures, the slightly loose sound of their duo came into sharp focus when joined by Rainey's atmospheric drumming. Clinking tones from a half-filled bottle, scattering sticks like matchwood on his drumheads, or thrashing visually graceful arcs above his cymbals, he was a delight both to watch and to hear. A first night of this quality augurs well for the days to come." The Times, January 2008 (Alyn Shipton)
Special guests to be announced.
Please note that, due to being in a church, there is a no food or drink policy. The gig is situated close to some very fine drinking establishments though, don't worry…
http://www.myspace.com/ingridlaubrock
CROSS STREET CHAPEL, Cross Street, M2 1NL
November 17th, 2009 @ 7:30pm
£9/7adv from http://www.skiddle.com/events/11323011/ or in person at The Noise Upstairs jam night, Fuel, Withington, 12th Nov.
With support from An Anton Hunter Quartet, with Anton Hunter on Guitar, Rod Skipp on Cello, Graham South on Flugelhorn, and Ben Cottrell on Clarinet
Also performing is Rodrigo Constanzo on Piano with Scott Hewitt on Live Sampling.
About The Noise Upstairs
The Noise Upstairs is an improv collective which runs a free-improv night in Manchester. The basic premise is that anyone can turn up and join in by putting their name in the hat. Names are pulled out, ensembles formed, and hearts broken.
Upcoming Featured Artist