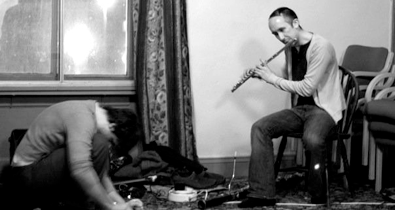 "Gift of Life" is a freely improvising duo consisting of Timothy McCormack on flutes & bassoons and Ray Evanoff on amplified cymbal & objects. They began playing together shortly after meeting at the Uni. Huddersfield in the fall of 2008, where they both are pursuing PhDs in music composition under the direction of Aaron Cassidy. Experienced improvisers, both have a special commitment to exploring and extending the possibilities of their uncommon instruments through an intense involvement with the physicality of sound production; together, they have worked to establish a personal aesthetic which foregrounds this emphasis and combines it with often radical approaches to the formal aspects of duo improvisation. Based in the UK, both are committed experimentalists whose work encompasses a variety of musical forms and other media.
Click here to listen to an mp3.
http://www.myspace.com/timothymccormack
Also performing is FILARIO FARINOPPO, from Italy.
http://www.myspace.com/filariofarinoppo
1 Comment to "Gift of Life / Filario Farinoppo – 12 November 2009"
About The Noise Upstairs
The Noise Upstairs is an improv collective which runs a free-improv night in Manchester. The basic premise is that anyone can turn up and join in by putting their name in the hat. Names are pulled out, ensembles formed, and hearts broken.
Upcoming Featured Artist
No upcoming performances.