Podcast: Play in new window | Download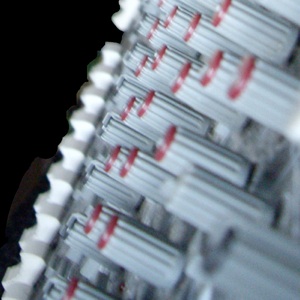 This podcast presents a ride through various styles of electronic music. Beginning with some electroacoustic pieces from acclaimed composers, the podcast gains pace and moves into more beat driven tracks.
The music is mixed together with some overlaps to create a flowing playlist.
Of note is the 'Impromondays' track which is taken from a recording at a night in Croatia similar to The Noise Upstairs. Also Jonty Harrison's track which is not really given justice by a stereo recording – he coordinates the 100+ speaker BEAST surround sound setup in Birmingham.
00:00-08:30 Agustin Fernandez – Wounded Angel
07:10-18:00 Jonty Harrison – Pair / Impair
12:35-27:36 Denis Smalley – Wind Chimes
16:58-22:55 Stuart Cope – Appel de la Sirene
23:20-27:26 Otto von Schirach – Crispy Hexagons
27:19-28:15 Farmers Manual – M4
27:29-27:59 CD Slopper – blr_ooodgr,-1_3
27:50-29:19 Der Brief – Kiel
29:03-31:05 Francis Dhomont – Marime
30:38-32:41 Federico Schumacher – Whisssh
31:17-35:14 Tomoroh Hidari – Jolly Speedcore Metal Ballad
34:04-39:13 Matmos – Freak 'n' You
37:50-41:40 Kit Clayton – Etymon, No
40:40-42:54 Caro – My Little Pony (Beckett and Taylor Mix)
41:40-44:20 Ricardo Villalobos – Perc and Drums
43:14-46:34 Luftraum – Unfinished Edit
45:54-48:15 Deepchild – 228th Microcrunk
47:57-50:35 The Books – Pagina Dos (Prefuse 73 Remix)
50:21-54:40 So Takahashi – Made in U.S.A
52:06-58:46 Ubik – Plex
54:42-58:00 D Pajic, V Eraj, F Guslac, K. Jost – Impromondays 1
55:30-59:18 Zoviet France – Daisy Gun
About The Noise Upstairs
The Noise Upstairs is an improv collective which runs a free-improv night in Manchester. The basic premise is that anyone can turn up and join in by putting their name in the hat. Names are pulled out, ensembles formed, and hearts broken.
Upcoming Featured Artist
No upcoming performances.