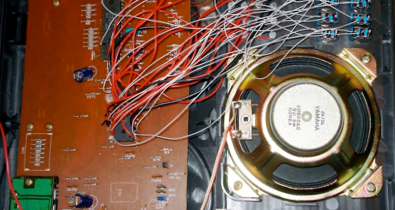 Circuit-bending is an electronic art which implements  creative audio short-circuiting. This renegade path of electrons represents a catalytic force capable of exploding new experimental musical forms  forward at a velocity previously unknown. Anyone at all can do it; no  prior knowledge of electronics is needed. The technique is, without a  doubt, the easiest electronic audio design process in existence.
If you learn to solder and can drill a small hole to mount a switch in, you can circuit-bend. Everything else is a process of non-technical, routine experimentation in which various short-circuits are created in an attempt to alter the target device's audio behavior.
During the course of this workshop you will go from having a basic electronic toy, to having a sophisticated circuit-bent instrument at the very end. In order to make sure that everyone has an exciting and interesting instrument at the very end we are limiting the target toys to ones that are tried and true, and will provide guaranteed results. In the downloadable leaflet we will provide you with a break down of the toys that we will be working with, along with part numbers for all the switches, knobs, and jacks we will be using from Malpin.
Click here to download leaflet
About The Noise Upstairs
The Noise Upstairs is an improv collective which runs a free-improv night in Manchester. The basic premise is that anyone can turn up and join in by putting their name in the hat. Names are pulled out, ensembles formed, and hearts broken.
Upcoming Featured Artist
No upcoming performances.