Browsing articles tagged with " pedals"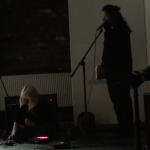 Rachel Margetts and Greta Buitkute are "Body Marx". Body Marx explores the absurd tensions of  music making. Loosely structured songs and structured improvisation form the basis of experimentation with video and performance. Body Marx's works often tackle forgotten or hidden contexts, in the […]
About The Noise Upstairs
The Noise Upstairs is an improv collective which runs a free-improv night in Manchester. The basic premise is that anyone can turn up and join in by putting their name in the hat. Names are pulled out, ensembles formed, and hearts broken.
Upcoming Featured Artist
No upcoming performances.