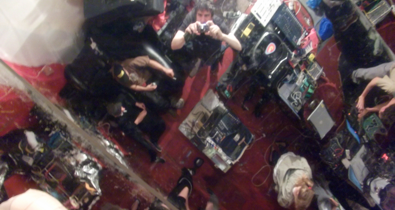 Artist: Kacper Ziemianin, Peter Smith and James Stephen Finn
Bio: London based musicians, Kacper Zieminian, Peter Smith and James Stephen Finn,
each coming from different backgrounds, met in 2007 at Middlesex
University where making noise together was a natural consequence. The
three form an improvisational musical act where there is no focus on
musical melody, but rather on texture and constantly changing
dynamics.
They combine a variety of instruments and sound-sources such as
electronic toys, circuit bending, mixers, turntables, bass guitar,
found objects, self-built instruments, guitar, laptop, feedback, and a
whole array of effects units to create interesting and dynamic
improvisations. This focus on improvisation allows for a creation of
sounds through a process of reaction and attention to changing mood,
producing sounds ranging from ambient to noise. Every performance is
different and unpredictable.
A free to download EP featuring live performances on "the best radio
station in the world" (The Village Voice) Resonance 104.4FM is now
available from Oso Records. www.osorec.wordpress.com.
Domestic Violence is an audiovisual project by Polish duo Ewelina Aleksandrowicz and Andrzej Wojtas. Granular outbursts of sound, synthetic paroxysm and D.I.Y approach shape physically aggressive performances arranged through a specifically conceived audio interface. Influenced by underground Japanese biomechanical movies, post-industrial landscape, abandoned buildings, a destructive punk attitude and anarchism, Domestic Violence turns emotional aggregates into therapeutic noise. During its live shows, the audience is invested and tortured by deeply sensual waves of concrete, material sound and raw images of flesh and bimorph surrealistic creatures. The interface was built by the artists in order to control and manipulate music with their own bodies. It is based on Arduino, connected with Max/Msp patch with recording and layering functions and prerecorded samples, and allows the production of sound as a consequence of physical gesture by using Force Sensitive Resistors. Different intensities of pressure and touch result in augmented or reduced inflection of glitch and noise and distorted aesthetic crashes of the video projection. With its harsh expressive wildness and a dark, brutalist touch, Domestic Violence leads the listener through an imaginative digital pilgrimage, exploring human and inhuman primitive roots by reactivating dismissed areas of our psyche.
Takahashi's Shellfish Concern combines abstract expressionist visual art with experimental electronic-acoustic music to accentuate the similarities of both during improvised exchanges. Angela Guyton and Rodrigo Constanzo create a new event that requires the audience to consider this merger of music and art as a single expression.
The concept for Takahashi's Shellfish Concern took shape in early 2006 back in their hometown, Miami, Florida.  Rodrigo and Angela had both worked along similar lines in Failure, Arc of Beauty, and continued their collaboration after the group's dissolution in 2006.
Now based in Manchester England, Takahashi's Shellfish Concern is performing with musician Anton Hunter across the UK.
EVENT HELD AT KRO BAR (opposite the Academy)
About The Noise Upstairs
The Noise Upstairs is an improv collective which runs a free-improv night in Manchester. The basic premise is that anyone can turn up and join in by putting their name in the hat. Names are pulled out, ensembles formed, and hearts broken.
Upcoming Featured Artist
No upcoming performances.