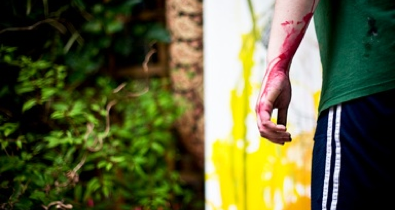 Takahashi's Shellfish Concern combines abstract expressionist visual art with experimental electronic-acoustic music to accentuate the similarities of both during improvised exchanges. Angela Guyton and Rodrigo Constanzo create a new event that requires the audience to consider this merger of music and art as a single expression.
The concept for Takahashi's Shellfish Concern took shape in early 2006 back in their hometown, Miami, Florida.  Rodrigo and Angela had both worked along similar lines in Failure, Arc of Beauty, and continued their collaboration after the group's dissolution in 2006.
Now based in Manchester England, Takahashi's Shellfish Concern is performing with musician Anton Hunter across the UK
http://www.takahashisshellfishconcern.com
http://www.myspace.com/takahashisshellfishconcern
About The Noise Upstairs
The Noise Upstairs is an improv collective which runs a free-improv night in Manchester. The basic premise is that anyone can turn up and join in by putting their name in the hat. Names are pulled out, ensembles formed, and hearts broken.
Upcoming Featured Artist
No upcoming performances.