Browsing articles tagged with " Todmorden"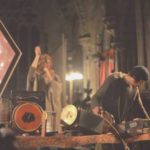 Sam McLoughlin and David Chatton Barker are good friends and creative collaborators whose wide-ranging work encompasses folklore, instrument design, visual arts, noise, harmony, intuition, arcana, field recordings, tinctures, icy swims, moors and mills. Except when it doesn't. http://www.folkloretapes.co.uk http://www.samandtheplants.co.uk What […]
About The Noise Upstairs
The Noise Upstairs is an improv collective which runs a free-improv night in Manchester. The basic premise is that anyone can turn up and join in by putting their name in the hat. Names are pulled out, ensembles formed, and hearts broken.
Upcoming Featured Artist
No upcoming performances.