Browsing articles tagged with " live coding"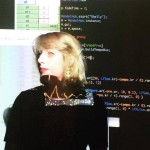 Monthly improvisation jam session with special guest set this month from Shelly Knotts (laptop) and Anton Hunter (guitar). Shelly Knotts produces live-coded and network music performances and projects which explore aspects of code, data and collaboration. Her experimental and collaborative […]
About The Noise Upstairs
The Noise Upstairs is an improv collective which runs a free-improv night in Manchester. The basic premise is that anyone can turn up and join in by putting their name in the hat. Names are pulled out, ensembles formed, and hearts broken.
Upcoming Featured Artist
No upcoming performances.