Browsing articles tagged with " laptops"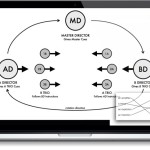 We're really excited to invite you to the first public performance using Rodrigo Constanzo's new networked improvisation system, dfscore. The dfscore system is a dynamic score display system built to function over a local network to display a variety of […]
About The Noise Upstairs
The Noise Upstairs is an improv collective which runs a free-improv night in Manchester. The basic premise is that anyone can turn up and join in by putting their name in the hat. Names are pulled out, ensembles formed, and hearts broken.
Upcoming Featured Artist
No upcoming performances.