Browsing articles tagged with " keyboard"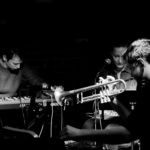 ELDA is a longstanding duo collaboration between piano/keyboard player Andrew Woodhead and trumpeter Aaron Diaz (The Destroyers, Sid Peacock), mixing acoustic sounds with live electronics and soundscapes. For their latest project they are collaborating with Norwegian vocalist Kari Eskild Havenstrøm(Trondheim Voices, Kristoffer Lo), with whom Andrew […]
About The Noise Upstairs
The Noise Upstairs is an improv collective which runs a free-improv night in Manchester. The basic premise is that anyone can turn up and join in by putting their name in the hat. Names are pulled out, ensembles formed, and hearts broken.
Upcoming Featured Artist