Browsing articles by " Ramsey Janini"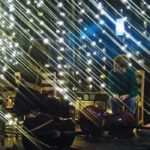 This month's guests are Ecka Mordecai and Kate Armitage. Both of whom have played for us in Manchester separately, so we're excited to hear them together in Tod! Ecka Mordecai is sound artist and composer currently based in Todmorden. She […]
About The Noise Upstairs
The Noise Upstairs is an improv collective which runs a free-improv night in Manchester. The basic premise is that anyone can turn up and join in by putting their name in the hat. Names are pulled out, ensembles formed, and hearts broken.
Upcoming Featured Artist
No upcoming performances.