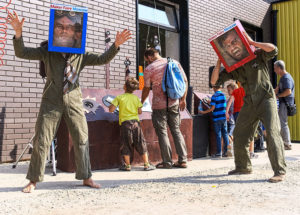 This month for our first Tod birthday we welcome Pizdetz. Georgios Stenos Frantzios and Stephen Summers from Noisy Toys bring a collection of re-animated miscellany and a cello upstairs. Springs, strings and interesting things with fans and pans and something else that we haven't found yet that would rhyme with them as well. The audience can also contribute to the sonic souffle without even leaving their seats, and we may all enjoy a little public electrocution if there is time.
Bios:
Yorgo is a sonic scavenger, a fearless explorer of junkyards, hardware stores & kitchens in quest for noise-making treasures. On stage he plays with his home brewed micro-percussion and stringed instruments, amplified objects, turntable and electronics. Off stage he makes audiovisual works, installations and music compositions for instruments & fixed media, while also collaborating with NoisyToys to provide essential sonic scavenging skills to young people.
Steve is a cellist and re-animator who specialises in upcycled instruments and interactive installations. Since starting Noisy Toys in 2007 he has tested thousands of noses all over the country, organ-harvested hundreds of computers and spawned many strange new instruments, often using fans and heat sinks from e-waste. Steve is a regular participant at both the Manchester and Todmorden Noise Upstairs nights.
– –
Before and after their set will be our regular jams. Also, this month our Todmorden branch turns 1! Thank you all so much for your support and musicianship this year, and long may it continue. We'll mark the occasion with a few bells and whistles, no doubt. We hope to see you there!
Who

Pizdetz - 25 February 2020

When

Tuesday, February 25, 2020

Where

Fielden Square
Todmorden, England OL14 6LZ
About The Noise Upstairs
The Noise Upstairs is an improv collective which runs a free-improv night in Manchester. The basic premise is that anyone can turn up and join in by putting their name in the hat. Names are pulled out, ensembles formed, and hearts broken.
Upcoming Featured Artist
No upcoming performances.