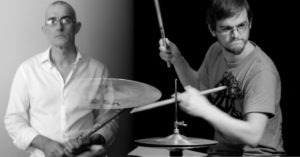 Hello all! This month's Todmorden guest set comes from a brand new duo of Simon Prince and Johnny Hunter. Both are fabulous musicians and frequent visitors to the Manchester Noise Upstairs events.
You may know Simon from his many appearances with Wolfscarers, and other groups. He's a fiery tenor sax player who's equally as fiery on flutes. He's a brilliant improviser and technician who gives it his all. I met someone the other day who knew Simon for the fantastic work he's done to support music education in Oldham. A grand egg all around it must be said!
Listen here: https://wolfscarers.bandcamp.com/
Equally fab is Johnny Hunter on the drums. You might have heard his not-effing-around chops with Sloth Racket downstairs at the Lion last month, but he's also been spotted with Hunter/Bass/Vulliamy/Hunter, Beck Hunters, Fragments, Space Food, Corey Mwamba, and many others.
Check him out here: http://www.johnnyhuntermusic.com/media/video/
Before and after their set will be the usual jams. Bring your instruments, put your name in the hat, or just grab a seat and enjoy the evening.
Please get in touch with any questions at all! See ya there x
Who

Simon Prince and Johnny Hunter - 29 October 2019

When

Tuesday, October 29, 2019

Where

Fielden Square
Todmorden, England OL14 6LZ
About The Noise Upstairs
The Noise Upstairs is an improv collective which runs a free-improv night in Manchester. The basic premise is that anyone can turn up and join in by putting their name in the hat. Names are pulled out, ensembles formed, and hearts broken.
Upcoming Featured Artist
No upcoming performances.