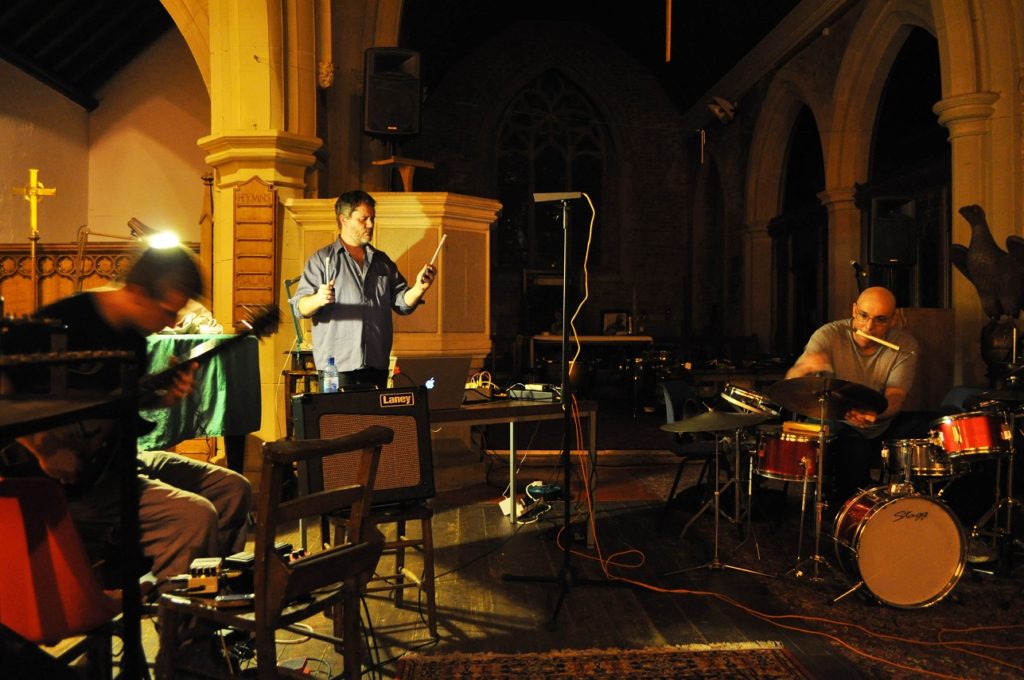 The Lighting Ensemble is Richard Scott's UK-based hyper-interactive free improvising group with longtime collaborators and brilliant improvisers, Phillip Marks, drums and David Birchall, guitar, with Scott playing analogue modular synthesizer. Intricate, intimate, dynamic, molecular and often explosive music. Richard Scott and Phillip Marks first played together in Manchester's Bark! in the 1990s (alongside Rex Casswell and Robin Hayward). Out of this quite volatile collaboration they helped to develop a distinctive highly conversational, percussive and rhythmic "Manchester-style" of free improvisation, which is very much reflected in the contrapuntal textures and forms on this album, recorded live in concert at Ausland in Berlin in 2015. This hyper-interactive style of improvising, with individual lines subservient to the collective shaping of energies, owes much to seminal UK groups such as Spontaneous Music Ensemble and Music Improvisation Company but with a restless edginess that perhaps reflects a different time and no doubt something of the sociable and sometimes abrasive character of the city of Manchester itself.
NEW RELEASE!
The legendary Australian improvising and experimental violinist Jon Rose gamely agreed to meet us onstage for the first time for the Lightning Ensemble's Berlin debut concert at Ausland and appeared unfazed by the experience. The summer fireworks that ensued that evening are herby etched here in binary form for all to hear.
The Lightning Ensemble focuses on a highly interactive, conversational post-free jazz form of free music that Scott calls "molecular improvisation" which is influenced disciplines originally pioneered by John Stevens and the Spontaneous Music Ensemble. Scott's approach to electronics is fast and visceral and the Ensembles reflects his interest in speed, intensity and collective musical communication.
The Lightning Ensemble itself has been in existence for five years but the individual players in the group have a much long history of playing together, Scott and Marks have been working together for over two decades in groups such as Grew Trio and Bark!. Marks and Birchall separated in age by 30 years, nonetheless discovered their absolutely compatible natural musical affinity and over the past five years via the very creative improvising scene in the North of England. In April 2014 the quartet released their self titled debut on CD and Bandcamp.
In 2012/13 the Lighting Ensemble performed in Manchester, Huddersfield, Berlin, London (Flim Flam and The Klinker) and the Brighton Aural Detritus festival. These clips were recorded in Brighton June 2013.
Mule wrote of the bands' 2012 Tubers concert in Manchester:
"A conductor creating sounds out of thin air, conducting a Looney tunes band. Richard Scott waved Buchla lightning/WiGi infra red controllers instinctively yet spontaneously to create a wondrous electronic landscape. As an audience member it felt like fast forwarding a tape trying to find the part you thought you wanted to listen to but never getting there… This was a venture into true experimentation, you had to let yourself be carried away and get absorbed."
A (mispelled!) video clip of the band performing at the International Computer Music Conference at Huddersfield 2011 with David Birchall on guitar and Adam Linson on contrabass (leading one notable UK electroacoustic composer – who we really musn't name – to comment, "THANK YOU GUYS! I'm so fucking sick of hearing acousmatic music. This is exactly what I needed to hear tonight!")
The group played at Manchester Jazz Festival 2010 amidst the Gothic grandeur of St. Ann's Church, and with Evan Parker, saxophone and Stephen Grew, piano at a concert at the Cross Street Chapel, Manchester.
Who

Richard Scott's Lightning Ensemble - 9 March 2017

When

Thursday, March 9, 2017

Where

448 Wilmslow Road
Manchester, England M20 3BW
About The Noise Upstairs
The Noise Upstairs is an improv collective which runs a free-improv night in Manchester. The basic premise is that anyone can turn up and join in by putting their name in the hat. Names are pulled out, ensembles formed, and hearts broken.
Upcoming Featured Artist