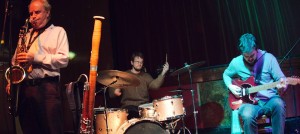 Mick Beck (reeds and whistles)
Anton Hunter (guitar, fx)
Johnny Hunter (drums)
Stopping off in Manchester on their UK tour to promote the debut album, The Hunt Is On (Discus 2014). – http://discus-music.co.uk/dis46cd.htm
"Agressive when it needs to be, but comfortable winding down into unhurried, meandering humour, it sounds like a miniature Art Ensemble at play." – Daniel Spicer, The Wire, 2014
"…truly mind-blowing, ranging between a cardiac arrest, epileptic fit and a nervous breakdown. The trio are extremely tight, threatening to unravel before skilfully coming back into sync." – Rob Aldam, Now Then Magazine, Oct 2013
"Ne esci curioso e in vita. Roba non da poco." – Kathodik, 2014
Before and after their set will be an open improvisation jam session, any and all are welcome. Bring your voices/instruments/laptops/toys/chairs…
Who

Beck Hunters - 12 February 2015

When

Thursday, February 12, 2015

Where

448 Wilmslow Road
Manchester, England M20 3BW

Other Info

Mick Beck (reeds and whistles)
Anton Hunter (guitar, fx)
Johnny Hunter (drums)

Stopping off in Manchester on their UK tour to promote the debut album, The Hunt Is On (Discus 2014). - http://discus-music.co.uk/dis46cd.htm

"Agressive when it needs to be, but comfortable winding down into unhurried, meandering humour, it sounds like a miniature Art Ensemble at play." - Daniel Spicer, The Wire, 2014

"…truly mind-blowing, ranging between a cardiac arrest, epileptic fit and a nervous breakdown. The trio are extremely tight, threatening to unravel before skilfully coming back into sync." - Rob Aldam, Now Then Magazine, Oct 2013

"Ne esci curioso e in vita. Roba non da poco." - Kathodik, 2014


Before and after their set will be an open improvisation jam session, any and all are welcome. Bring your voices/instruments/laptops/toys/chairs...
About The Noise Upstairs
The Noise Upstairs is an improv collective which runs a free-improv night in Manchester. The basic premise is that anyone can turn up and join in by putting their name in the hat. Names are pulled out, ensembles formed, and hearts broken.
Upcoming Featured Artist
No upcoming performances.