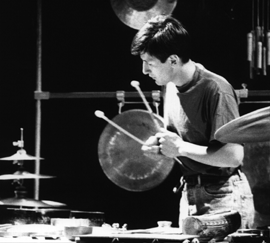 As a classical trained percussionist, Lê Quan Ninh worked with contemporary music ensembles and is a founder member of Quatuor Hêlios, a percussion quartet that performed and recorded, among others, John Cage's percussion works. Their last creation is Seul à Seuls by Georges Aperghis premiered in late 2006 at the Musica Festival in Strasbourg (France).
As an improvisor, he participates at numerous meetings in Europe and in North America and plays regularly in ensembles in forms that mix improvised acoustic & electroacoustic music, 'performance art', dance, poetry, experimental cinema, photography and video…
With the cellist Martine Altenburger, he founded in 2006 the ensemble]h[iatus, a contemporary music ensemble whose its members are at the same time interpreters and improvisers. They commissioned a piece to the composer Vinko Globokar that has been premiered in September 2009.
He works regularly with dancers. One of the last projects is Delay vs Trio, a piece using computers with the dancers Franck Beaubois and Patricia Kuypers where a movie is 'built' step by step on the spot. Ninh currently worked with the choreographer Clara Cornil for (H)AND(S) a piece for 5 dancers and 2 musicians that has been premiered in February 2009.
His discography counts about 40 CD on european and north american labels.
Ninh will be performing with Rodrigo Constanzo and Sam Andreae.
//////////////////////////////////////////////////////////////////////////////////////////////////////
Distractfold Ensemble will be performing eclectic programme of amplified ensemble and electronics music, featuring works by Martin Iddon, Milica Djordjevic, John Croft and Mauricio Pauly.
£8/£6
Who

Lê Quan Ninh / Distractfold Ensemble

When

Wednesday, June 26, 2013

Where

3 Cambridge Street
Manchester, England M1 5BY
About The Noise Upstairs
The Noise Upstairs is an improv collective which runs a free-improv night in Manchester. The basic premise is that anyone can turn up and join in by putting their name in the hat. Names are pulled out, ensembles formed, and hearts broken.
Upcoming Featured Artist
No upcoming performances.