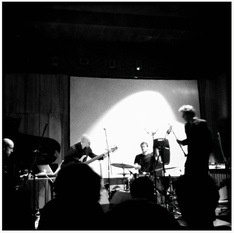 Splice's raison d'être is to mesh together influences of contemporary jazz, free improv, loud and soft noise, punk grit, ambient music, and more… with seamless blends or blunt juxtapositions.
Featuring Alex Bonney on trumpet and electronics, Robin Fincker on tenor sax and clarinet, Dave Smith on drums, Pierre Alexandre Tremblay on bass guitar and electronics, Splice launched their debut CD « LAB » at the 2011 Loop Festival at the Forge, London.
Splice is:
Robin Fincker – tenor sax / clarinet
Alex Bonney – trumpet / electronics
Pierre-Alexandre Tremblay – bass / electronics
Dave Smith – drums
http://www.loopcollective.org/projects/Splice
A Greater Horror is a post-jazz piano trio incorporating elements of free-jazz, math-rock, contemporary classical, and electronics into something altogether different.
A Greater Horror is:
Rodrigo Constanzo – keys / electronics
Mauricio Pauly – bass
Alex Tod – drums
Who

Splice & A Greater Horror - 21 March 2012

When

Wednesday, March 21, 2012

Where

325 Oxford Road
Manchester, England M13 9PG
About The Noise Upstairs
The Noise Upstairs is an improv collective which runs a free-improv night in Manchester. The basic premise is that anyone can turn up and join in by putting their name in the hat. Names are pulled out, ensembles formed, and hearts broken.
Upcoming Featured Artist
No upcoming performances.