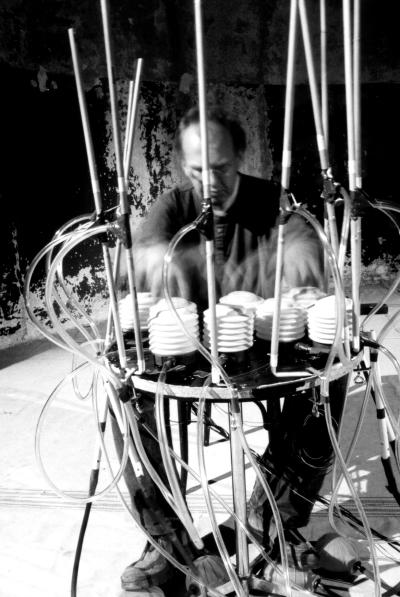 Imagine you have a plastic bottle….
You fill it with water and you hang it upside down….
You make a little hole in the cap….
and then you sit back, you wait and you listen –
drips appear – they fall – they hit
sounds
… inaudible when the water squeezes through the little hole
… imaginable when it falls
… audible when it hits
Events like this drive Helmut Lemke's curiosity.
Since he started his journey into the world of sound more than 30 years ago, he investigated sounds that are around us, some are obvious, some are familiar, some have to be found… and he has performed and exhibited process based work responding to his investigations.
His endeavour has taken him to concert halls and outdoor markets, to Galleries and Museums and to the frozen seas off Greenland, to Function Rooms of Pubs and to International Festivals. He has presented his work all over the globe, collaborating with other Sound Artists and Musicians, with Dancers and Scientists, Visual Artists and Architects, Poets and  Archaeologists, Performance
Artists and Wildlife Rangers.
Helmut Lemke is still listening.
Who

Helmut Lemke - 12 January 2012

When

Thursday, January 12, 2012

Where

448 Wilmslow Road
Manchester, England M20 3BW
About The Noise Upstairs
The Noise Upstairs is an improv collective which runs a free-improv night in Manchester. The basic premise is that anyone can turn up and join in by putting their name in the hat. Names are pulled out, ensembles formed, and hearts broken.
Upcoming Featured Artist
No upcoming performances.