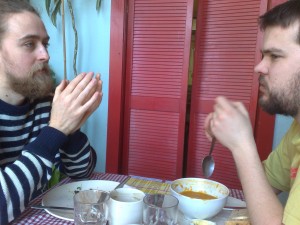 Sam Andreae and Anton Hunter first met playing in Ben Cottrell's Beats & Pieces Big Band, and quickly went on to form their quartet Haq to explore the boundaries between composed and improvised music.  This latest tour (with release to follow) is a complete embrace of the freely improvised, still working together though performing alone.  Sam's home-modified electro-acoustic sax pitched against Anton's acoustic guitar with bells on.
Who

Distractfold Ensemble / Sam Andreae & Anton Hunter - 10 November 2011

When

Thursday, November 10, 2011

Where

448 Wilmslow Road
Manchester, England M20 3BW
About The Noise Upstairs
The Noise Upstairs is an improv collective which runs a free-improv night in Manchester. The basic premise is that anyone can turn up and join in by putting their name in the hat. Names are pulled out, ensembles formed, and hearts broken.
Upcoming Featured Artist
No upcoming performances.