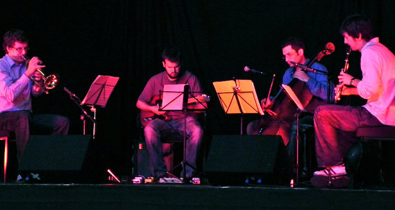 Ben Cottrell (winds) Rod Skipp (cello) Anton Hunter (guitar).  Exploring the space between contemporary classical music, free jazz and electroacoustic improvisation.
A new collective chamber group that recently made its debut appearance as the 265 Quartet at the 2010 Manchester Jazz Festival, having previously supported Ingrid Laubrock's Sleepthief project. Featuring instrumentation from a mixture of families, the music has distinct timbres, there is no obvious 'rhythm section' and the area between contemporary classical and improvisation is blurred.
About The Noise Upstairs
The Noise Upstairs is an improv collective which runs a free-improv night in Manchester. The basic premise is that anyone can turn up and join in by putting their name in the hat. Names are pulled out, ensembles formed, and hearts broken.
Upcoming Featured Artist