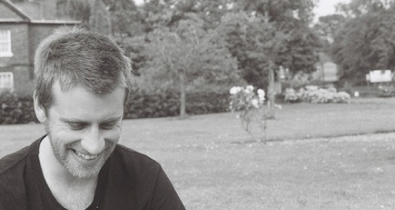 Dave Birchall was born in Leicester and started playing the guitar there in 1995. He moved to Manchester in 1999 and still live here.
His work as a musician has been in several areas: in improvising within and without structures and in writing and arranging music. At present he am focused on working on developing ideas for improvising with guitar.
he have also worked with zines, promoting gigs and in education.
http://davidmbirchall.wordpress.com
Phillip Marks has been performing and promoting improvised music in Manchester, the UK, and Europe since the mid-80s. He is a founder member of Bark! and has been playing with pianist Stephen Grew and saxophonist Mick Beck  for the best part of twenty years. Recent collaborations have included a trio tour with trombonist Alan Tomlinson and guitarist Dave Tucker, a trio with Stephen Grew and Evan Parker and a quartet with Tony Bevan, Dominic Lash and Paul Obermayer.
http://www.myspace.com/docdicrecords
http://www.myspace.com/barkcontraption
About The Noise Upstairs
The Noise Upstairs is an improv collective which runs a free-improv night in Manchester. The basic premise is that anyone can turn up and join in by putting their name in the hat. Names are pulled out, ensembles formed, and hearts broken.
Upcoming Featured Artist