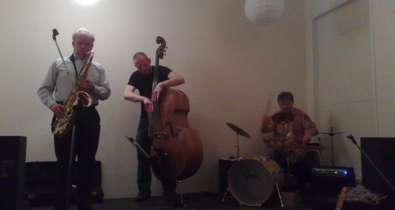 Trio of Sheffield musicians put together especially to celebrate the 1 year anniversary of the Sheffield NUS.  Mick Beck (reeds & whistles), Seth Bennett (double bass) and Peter Fairclough (drums & percussion).
About The Noise Upstairs
The Noise Upstairs is an improv collective which runs a free-improv night in Manchester. The basic premise is that anyone can turn up and join in by putting their name in the hat. Names are pulled out, ensembles formed, and hearts broken.
Upcoming Featured Artist
No upcoming performances.