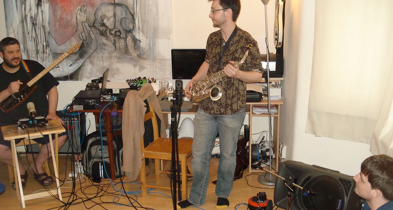 New trio featuring our very own Rodrigo Constanzo, along with Ray Evanoff, which you might remember from Atemnt, who released an amazing CD on NUS Records, and Iain Harrison.
This is their CD launch tour/gig.
The record is amazing.
For more info:
http://www.rodrigoconstanzo.com
http://rayevanoff.wordpress.com
About The Noise Upstairs
The Noise Upstairs is an improv collective which runs a free-improv night in Manchester. The basic premise is that anyone can turn up and join in by putting their name in the hat. Names are pulled out, ensembles formed, and hearts broken.
Upcoming Featured Artist
No upcoming performances.