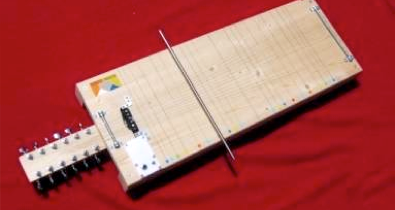 The Moodswinger is a new electric 12-string instrument invented by Yuri Landman. Developed over six years of prototyping and fully realised in 2006 for the band Liars, Yuri has custom built derivatives for such musical luminaries as Sonic Youth, David Holmes, Half Japanese, Enon, Lou Barlow, dEUS, The Dodos, Blood Red Shoes, HEALTH, Liam Finn, The Veils and Micachu And The Shapes.
The Moodswinger features a uniquely designed string field that includes an extra movable rod (called a '3rd bridge'), which divides the strings into two sections. This string preparation creates mutually occurring resonance in both sections of strings, resulting in a sound more akin to a group of clocks and bells than the common sound of a vibrating stringed instrument. The unique timbre of the Moodswinger has often been likened to Eastern instruments or Gamelan music.
The Home Swinger DIY Workshop
The Home Swinger is a simplified version of the Moodswin- ger designed to be easy to assemble and play. It does not feature the slick finished design of the Moodswinger but is exactly the same sounding instrument. Yuri Landman presents a 4 hour long Do-It-Yourself workshop whereby participants will leave with a finished Home Swinger instrument as well as a strong understanding of its structure and workings. The difficult soldering part will be taken care of by Yuri. Participants require no special skills and the difficulty of the process has been compared to building a piece of IKEA furniture!
In advance of the workshop Yuri will prepare the component parts of the instrument for the participant to use in construction. These include: 4 pieces of ready shaped wood in the required sizes and predrilled with holes, easy to employ machine heads for the strings, one pickup (good quality, equal to Fender), an on/off switch, a jack output, a few screws, bolts and nuts and some metal for the bridges, as well as four sets of strings (4×3 plain or 4×3 wound strings, depending on the sound desired by the participant).
About The Noise Upstairs
The Noise Upstairs is an improv collective which runs a free-improv night in Manchester. The basic premise is that anyone can turn up and join in by putting their name in the hat. Names are pulled out, ensembles formed, and hearts broken.
Upcoming Featured Artist
No upcoming performances.