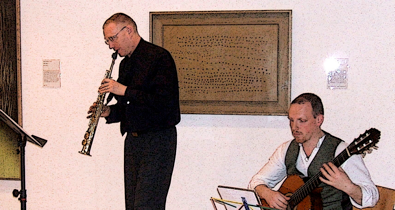 Graculus is an improvising duo consisting of Richard Harding (acoustic & electric guitars) and Phil Hargreaves (saxophone & flute). Originally, the duo formed for a one-off show at Tate Liverpool in 2008, but the partnership blossomed over the next 2 ½ years.
Phil is an experienced improvising musician, having worked with some of the UK's best improvisers, including Maggie Nicols (CD 'Human' forthcoming), while Richard is predominantly a classicist (with a few lurking prog-rock overtones), so the duo dip into and explore various soundworlds, without having to feel constrained by any of them. As well as being improvisers, they are both composers as well, so there is always a sense of form, both present and being subverted, in their playing.
Their album 'Graculus' was released in 2010 on whi music (www.whi-music.co.uk).
About The Noise Upstairs
The Noise Upstairs is an improv collective which runs a free-improv night in Manchester. The basic premise is that anyone can turn up and join in by putting their name in the hat. Names are pulled out, ensembles formed, and hearts broken.
Upcoming Featured Artist
No upcoming performances.