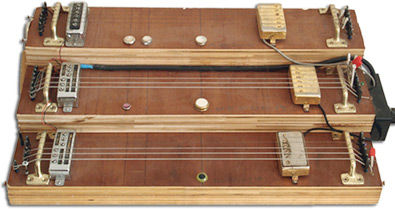 Instrument design is many things to many people. It brought us the modern orchestra, the engineering feat that is the grand piano, the digital sampler, and a near endless world of things in between.
There are several classes of instruments (as can be seen on page 3) and we will explore nearly all of them through our multi-part Instrument Building Workshops. During this first workshop we will be exploring some of the basics of Idiophones and Chordophones, with our Contact Mic Instrument and Third Bridge Guitar, as well as general Instrument building and design skills.
The workshop will happen over the course of two days. Sunday May 9th at 7PM and Sunday May 30th, and 2PM. With a special "Home Made Instrument" themed Noise Upstairs on June 10th. The first workshop date will deal with an overall introduction to instrument making, some information on Contact Mics, and the construction of the Contact Mic Instrument. The second session will deal with the Third Bridge Guitar. You may attend one or both, as each session will focus on the separate instruments.
Since we are making experimental musical instruments, some of the plans and parts on the following pages are not as specific as the details given during our Circuit Bending Workshop last year, as these instruments can be built in a variety of ways. I will provide you with some rough information on the materials and parts needed, and everyone will make a slightly different version of the instruments.
We will provide you with all the necessary tools to make the instruments needed. So other than having some timber cut at B&Q when you buy it (see following pages) everything else will happen at the workshop. So read on, and get ready to build yourself into DIY nirvana!
Click here to download leaflet
About The Noise Upstairs
The Noise Upstairs is an improv collective which runs a free-improv night in Manchester. The basic premise is that anyone can turn up and join in by putting their name in the hat. Names are pulled out, ensembles formed, and hearts broken.
Upcoming Featured Artist
No upcoming performances.