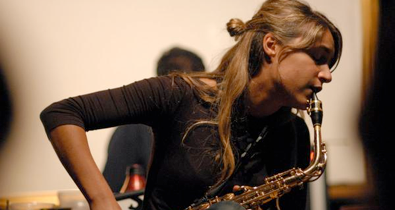 Born in 1978 and living in France, Christine is from lebanese origins. It is with the discovering of improvised music in 1997 that Christine Sehnaoui decided to start her own autodidact study of sound experimentation on the alto saxophone.
She creates a personal language on how to make electronic music on an acoustic instrument. Far away from narrative or dramatic music, her music tries to deal with the relation between listening and the concept of perception, time and space. With deep sensitivity, she develops extended techniques and complex patterns, exploring the microtonal aspects of the saxophone or the high-pitched tone. She produces nifty tonguing tricks, unpitched breaths, spittle-flecked growls, biting, slicing notes or breathy echoey sounds from the bell of her horn.
Her main musical partners include Sharif Sehnaoui, Michel Waisvisz, Stéphane Rives, Mazen Kerbaj, Michael Zerang, Mathias Forge, Olivier Toulemonde, Pascal Battus, Basile Ferriot and many others.
For the past few years, she has been working with dancers ( Buto and contemporary dance) and she also undertakes an ungoing research on musical pedagogy (concerts for children, intervention in schools).
Besides, since 2001, she contibutes to develop impovisation in her country of origins, Lebanon, where she co-organizes the annual festival of improvised music in Lebanon, called « Irtijal ».
For more infos : www.irtijal.org
She has study sociology and she works in an independent DVD label of experimental cinema (LOWAVE), whose objective is to discover and promote contemporary film and video art. Recently, she has released two DVDs called "Résistance(s)", compilations of arab experimental videos.
For more infos : www.lowave.com
http://www.myspace.com/christinesehnaoui
http://www.olivier-toulemonde.com/cmo_102.htm
About The Noise Upstairs
The Noise Upstairs is an improv collective which runs a free-improv night in Manchester. The basic premise is that anyone can turn up and join in by putting their name in the hat. Names are pulled out, ensembles formed, and hearts broken.
Upcoming Featured Artist
No upcoming performances.