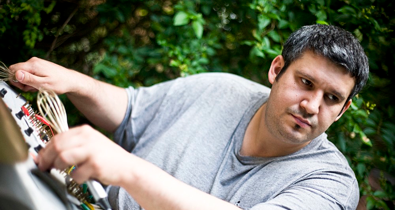 It all started with a gig. Rodrigo Constanzo and PA Tremblay shared a stage in late 2008 and both enjoyed each others playing so much that a recording date was arrange for early 2009. This CD is that recording date. Not having ever played with each other, the two setup in a studio, with no holds barred (pictures below) and let it rip for the next few hours.
It was all improvisations that ranged from textural laptop-scapes, to grimy stutter-hop, to some smooth jazz, and many other things that I can't pretend to come up with names for (those above are inadequate enough).
The CD is called "Drum & Bass: And The Horse You Rode In On". It is 13 tracks long, hand silkscreened in eco-friendly packaging, and available on the cheap.
Come down and see the first live performance by the duo. Also performing will be Manchester's Token Otter (Josh Kopecek, Anton Hunter, and Ben Cotrell) as well as a TBA act from Huddersfield.
About The Noise Upstairs
The Noise Upstairs is an improv collective which runs a free-improv night in Manchester. The basic premise is that anyone can turn up and join in by putting their name in the hat. Names are pulled out, ensembles formed, and hearts broken.
Upcoming Featured Artist
No upcoming performances.